Atlantic Council event promotes Iranian regime misinformation campaign
Jul 28th, 2017
Hassan Dai, 28 July 2017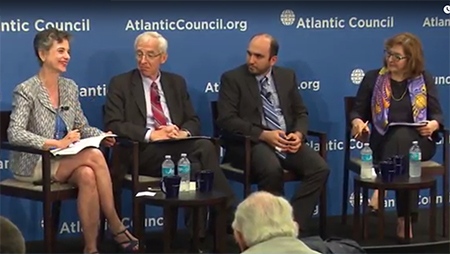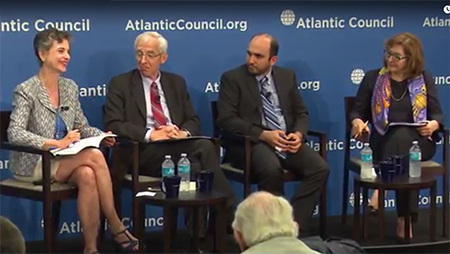 The fake public opinion poll presented at the Atlantic Council reflects the regime's talking points and is designed to provide necessary materials for pro-Tehran advocates in Washington to oppose the Congressional sanctions and the new administration's tough policy toward Tehran.
———————————————————————–
On Friday July 28, the Atlantic Council hosted an event titled "the Ramifications of Rouhani's Reelection" which was moderated by Barbara Slavin, the director of Council's Future of Iran Initiative. During the event that featured NIAC's advisory board member Nadereh Chamlou and veteran pro-Iran advocate Paul Pillar, the key speaker Ebrahin Mohseni presented his latest public opinion poll of Iranians in regard to the regime, its policies and how the Iranians view Trump administration.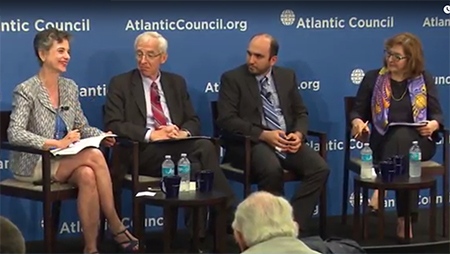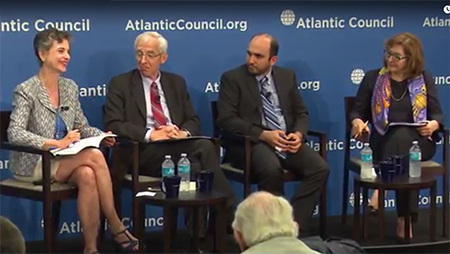 Barbara Slavin, Paul Pillar, Ebrahim Mohseni and Nadereh Chamlou
Ebrahim Mohseni is a Research Scholar at Center for International and Security Studies at Maryland (CISSM) and a Senior Analyst at "the University of Tehran Center for Public Opinion Research" a center tied to the regime. For the past several years, Mohseni and his partners in Iran have produced numerous fake polls designed to influence Western public opinion and shape US and European policies toward Iran.  These fabricated polls that have been largely promoted during the nuclear negotiations claim that the vast majority of Iranians support the regime's domestic and foreign policies.
Mohseni's new poll presented at the Atlantic Council reflects the regime's talking points and is designed to provide necessary materials for pro-Tehran advocates in Washington to oppose the Congressional sanctions and the new administration's tough policy toward Tehran.
The poll advances the outrageous claim that "the majority of Iranians disagree with the assertion that Rouhani's re-election means most people disapprove of the ideals of the Islamic Revolution, or that they want religion to play a lesser role in policy making."
The poll also claims that: "Seven in ten Iranians believe it likely that Trump may decide not to abide by the terms of the nuclear agreement. A clear majority now thinks that instead of taking the matter to the UN, Iran should retaliate by restarting the aspects of its nuclear program it has agreed to suspend under the JCPOA, if the United States abrogates the deal. A large majority see the new sanctions that Congress is likely to impose on Iran as being against the spirit of the JCPOA, with half saying it would violate the letter of the agreement as well."
The poll claims that the "Majority Opposes a Halt to Missile Testing as Two thirds reject the notion that Rouhani's re-election means most Iranians oppose testing of missiles by the Islamic Revolutionary Guard Corps (IRGC), even in Return for More Sanctions Relief".
According to the poll, majority of Iranians support the Supreme Leader's regional policies and his path for economic recovery: "an increasing majority think Iran should strive to achieve economic self-sufficiency rather than focusing on increasing its trade with other countries. Six in ten say current changes in the world make it necessary for Iran to have a president who will stand up for Iran's rights and refuse to compromise. Majorities reject offering various steps in exchange for more sanctions relief—steps such as Iran reducing its missile testing, or recognizing Israel, or ceasing its aid to the Syrian government and Hezbollah. Rejection of these steps is significantly lower, though, among those who think the nuclear deal has improved the living condition of ordinary Iranians."
The new poll claims that: "two in three support Iran sending military personnel to Syria to help the Assad government against armed Syrian rebels, including ISIS. Support for Iran and the United States collaborating with one another to help Iraq's government counter ISIS is at its lowest, with an increasing majority saying they would oppose such cooperation. "
The full report of the poll ends with a political statement seemingly by the Iranian foreign ministry and warns the advocates of frim US policy with Iran: "Foreigners who want to see the JCPOA succeed and Iran engage more economically and diplomatically with the rest of the world are in step with the Iranian people. Those who want to see dramatic changes in Iran's other security policies as a precondition for cooperation, or who believe that tightening sanctions will cause the majority of Iranians to turn against their leaders and the Islamic Republic, are out of touch with what the Iranian people really think."
Who is Ebrahim Mohseni?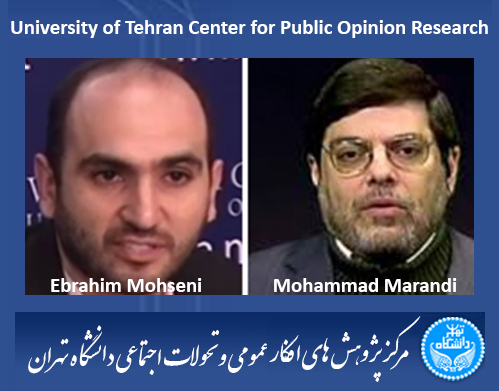 In 2009, President Ahmadinejad's office helped the creation of the "University of Tehran Center for Public Opinion Research (UTCPOR)". The head of the center is Mohammad Marandi, a Tehran University professor Marandi well-known hard line figure close to the Revolutionary Guards who usually appears on foreign news outlets to defend the Iranian regime's position. In this video, Marandi appeared on CNN to defend the repression of Iranian uprising in 2009.
The director of the Center for public opinion polls is Ebrahim Mohseni. He is very close to security and military circles ties to the Revolutionary Guards (IRGC).Here is Mohseni's talk with "Young Reporters' Club" controlled by the IRGC. Below is the flyer for Mohseni's speech before the Bassiji student gathering on October 15, 2011. (Bassij is para-military units of IRGC)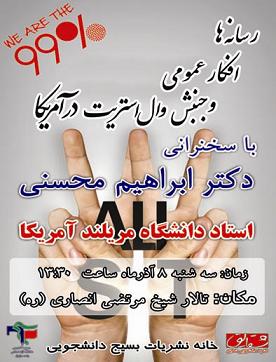 Ebrahim Mohseni, keynote speaker at a Bssiji student event in support of "Occupy Wall Street Movement"
Since 2009, UTCPOR has produced a dozen of polls for its partners in the US. Additionally, the center has also released polls for Iranian audience, designed to help the hardliners and Revolutionary Guards' policies. For example, in 2014, as the ultra-hardline planned to impose mandatory separate of men and women in working places and universities, the UTCPOR released a public opinion poll of Iranians that showed an overwhelming support for the plan.
Mohseni explained the result of his poll in an interview with "Tasnim News", affiliated with Revolutionary Guards and declared: "A majority of Iranians who answered our questions told that implementation of Islamic rule in Iran will help to reduce the social and economic problems in the country and  %78 believed that the separation of men and women will improve the work condition in public offices and will strengthen the foundation of families. %64 of them preferred that women should be given only the jobs that are related to the women issues."
Public Opinion Polls of Iranians
For the past several years, a number of Iranian public opinion polls in regard to nuclear program have been released in the US. These are two distinct categories of polls, first are those conducted from abroad by calling Iranians inside the country. Considering the repressive nature of the regime ruling in Iran and the sensitivity of nuclear issue and the general understanding by the Iranians that opposing regime's nuclear policy will not remain unpunished, these "phone" polls are scientifically unreliable because the Iranians will not take the risk to endanger themselves by expressing a negative opinions about the regime, its policies and nuclear program in phone conversations with strangers who call from abroad.
Many of US organizations that initiate, finance and publicize these polls are aware of this bias but because they favor a friendlier policy with Iran, use these polls as a tool to influence the public opinion and shape US position in nuclear talks.
The second category of polls which are more publicized in US media and seem more effective, are those made by allegedly "independent" and "professional" centers in Iran that conduct personal interviews with Iranians across the country. All of these Iran-made polls are entirely regime-fabricated because no organization or center can conduct independent polls in Iran, notably on behalf of foreign clients and be able to contact Iranians freely unless such polling organization is affiliated with security institutions or Revolutionary Guards. The only time that a relatively independent poll was conducted in Iran was in 2002 by two reformist journalists and pollsters, who were later tried and sentenced to pass years in prison because the result of their polls contradicted the official policy of the regime.
The majority of Iran-made polls are conducted by "University of Tehran Center for Public Opinion Research (UTCPOR)", a center that was created by Ahmadinejad's office to organize the fabrication of public opinion polls tailored for Western audience.  UTCPOR main partner in the US is "The Center for International and Security Studies at Maryland (CISSM)".  The polls are promoted and publicized by pro-Tehran groups in Washington.
Iranian regime's misinformation campaign
These fake polls are part of Iranian regime's misinformation campaign that started after 2002 when Iran's secret nuclear program was revealed to the public. In order to have a leverage during the nuclear negotiations with international community, the regime launched a well-organized campaign to prove that the large majority of the Iranian people support the nuclear program and see it as a symbol of national pride, therefore, pretend that the government cannot forgo the popular demand and make broad concessions in the negotiations and dismantle the nuclear infrastructure, notably the enrichment activities.
This misinformation campaign has been based on several pillars: First, imposing a strict censorship on media to prevent public debate and opposition to nuclear program. Second, holding allegedly popular rallies, conference and events in defense of nuclear program. Third, release of fake public opinion polls.
A look at some of Mohseni's previous polls released in the US
During the nuclear negotiations, the polls that Mohseni and his partners at the Tehran-based center fabricated for the Western audience infallibly showed a huge popular support for Iran's nuclear program and the regime's position in nuclear talks. The results of these polls contradict the most basic understandings about Iran and Iranian people. Even a moderately intelligent observer of Iranian politics will find these polls aberrant and unconceivable. However, these polls were widely publicized and promoted by some US organizations and think tanks that lobby for friendship and coexistence with Iranian regime. Here are some examples of these aberrations:uranium enrichment.
In September 2009 after the controversial presidential election and in the midst of popular uprising in Iran, the poll by the Tehran based center was released in US and claimed that %81 of Iranians considered Ahmadinejad as their legitimate president. While millions of Iranians were demonstration against the rigged election, the poll found that %81 of people were satisfied with electoral process. According to the poll: "Though Iran's human rights record has been criticized by a multitude of international organizations, Iranians themselves hold it in higher regard. Seventy-one percent of Iranians consider themselves at least somewhat free "to express controversial political views, without fear of being harassed or punished."
A 2012 survey made by the Tehran based center and presented during a public event in Washington, flirted with ridicule as it claimed that majority of Iranians prefer sanctions and even war over halting uranium enrichment. GENEIVE ABDO summarized this astonishing pol in her Foreign Policy article and wrote:
"Respondents were asked: "Would you favor or oppose an agreement whereby all current sanctions against Iran would be removed and Iran would continue its nuclear energy program, except that it would agree not to enrich uranium?" Fifty-nine percent were opposed to stopping enrichment and only 29 percent were in favor.
In another question, respondents were asked which statement is closer to their opinion: 1) "Iran should continue its nuclear enrichment activity even if it results in war;" or 2) "Iran should prevent a war from occurring even if it means suspending nuclear enrichment." Fifty-five percent chose to continue enrichment, while 33 percent said Iran should prevent a war, even if it means suspending enrichment."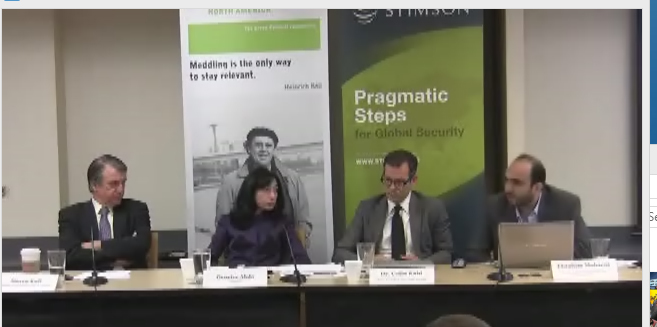 Steven Kull (PIPA), Geneive Abdo (moderator), Colin H. Kahl, Center for a New American Security (CNAS) and Ebrahim Mohseni presenting 2012 poll, Washington October, 17, 2012
.
In 2013 at the height of economic hardship and misery for Iranian people, a poll made in Iran and presented by Trita Parsi and James Zogby claimed that "only 36% of Iranians say that sanctions have had an impact on their lives. This, or national pride, may be the reason why a majority of Iranians (96%) agree with the statement that "maintaining the right to advance a nuclear program is worth the price being paid in economic sanctions and international isolation."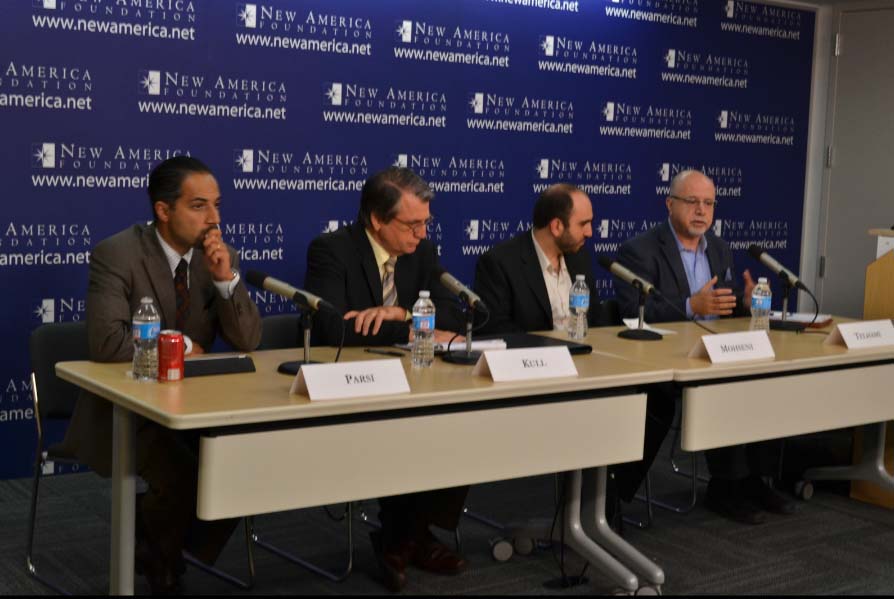 Trita Parsi of NIAC, Steven Kull of PIPA, Ebrahim Mohseni from Tehran-based UTCPOR present 2013 poll. July 2013
More amazingly, the result of these polls vary according to the regime's position in nuclear talks. For example, in 2014, the center produced a poll for PIPA in Washington that suggested the Iranians know the details of negotiations and naturally support the regime' position: "Asked about specific provisions, solid majorities indicate a readiness to consider, as part of a larger deal, Iran providing reassurances never to produce nuclear weapons, accepting more intrusive international inspections to assure Iranian compliance with the NPT, and limiting the level of uranium enrichment to the 5% level, for an agreed upon period of time as part of the comprehensive agreement currently being negotiated between Iran and P5+1 countries. On the other hand, a large majority rejects as unacceptable dismantling half of Iran's existing centrifuges or imposing limits on nuclear research activities."
The Tehran-based center founded by Ahmadinejad government has found receptive ears in Washington and the doors have opened to the Center's director Mohseni who presents his aberrant claims in most prestigious think Tanks and institutions. Here are some of Mohseni's fake polls: 2014 poll, 2015 poll, 2016 poll and 2017 poll.