Javad Zarif and Trita Parsi's collaboration to exploit Political divisions in Washington over Iran Policy during George Bush administration
Mar 10th, 2015
Hassan Dai, March 10, 2015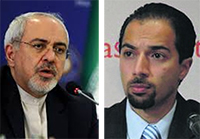 In 2006-2007, NIAC president arranged meetings between Iranian ambassador and Congress members, mainly democrats who according to Parsi "were disillusioned with Bush foreign policy and are tired to sit on the sidelines as Bush undermines the US's global position. They are willing to take matters in their own hands and they accept the political risk that comes with it.
In 2008, Obama's campaign team member William Perry and Joe Biden's staff Puneet Talwar met with Iranian delegations led by Ahmadinejad's chief advisor Hashemi Samareh in Europe.
————————————————–
In August 2013, the Iranian regime's foreign minister Javad Zarif made a confirmation speech[1] to the parliament and explained that during his tenure as Iran's ambassador to the UN in New York, he had the approval of the regime's higher authorities and established contacts with anti-Bush politicians in the US to exploit division amongst the decision makers and neutralize the White House's policy toward Iran.
One of Zarif's partners in this endeavor was the Washington based organization "National Iranian American Council" (NIAC) led by Trita Parsi. The Governmental press in Iran considers NIAC as the "Iran lobby" in Washington. (Read NIAC fact book[2])
During a defamation lawsuit[3] filed by NIAC against one of its critics, part of their internal documents and more specifically email exchanges between Javad Zarif and Trita Parsi were released that shed light on Tehran's tactics to influence US policy toward Iran. These emails[4] show Zarif's relation with Congressional members and illustrate how the Iranian ambassador and NIAC coordinated efforts to neutralize US pressure against Iran.
How Zarif and Parsi Exploited Political Divisions in Washington
According to NIAC's emails released during the lawsuit, In April 2006, Zarif gave a copy of the "Iranian 2003 offer for "grand bargain[5]" to Parsi that was subsequently released to the press and used in a campaign to prove that Iran was ready for peace and dialogue while the US was merely seeking war with Iran. (to see parsi's role in giving the copy of Iranian offer to the press, read Washington Post report, Anti-war report and IPS report)
A few weeks later, Parsi launched the "Iran Negotiation Project," and started to arrange meetings between Congressional members and Zarif. Then in his October 25, 2006 email, Parsi told Zarif about Congressional members who had decided to oppose George Bush's policy on Iran and requested to meet with him:
Also, happy to hear that you will meet with Gilchrest and potentially Leach. There are many more that are interested in a meeting, including many respectable Democrats. Due to various reasons, they will contact you directly (partly to avoid going through Jeremy Stone). Their larger goal is to meet with Iranian elected parliamentarians.
Gilchrest is a great guy, low key but very respected among Republicans as well as the Democrats. These members are very disillusioned with the Bush foreign policy and are tired to sit on the sidelines as Bush undermines the US's global position. As a result, they are willing to take matters in their own hands and they accept the political risk that comes with it.[6]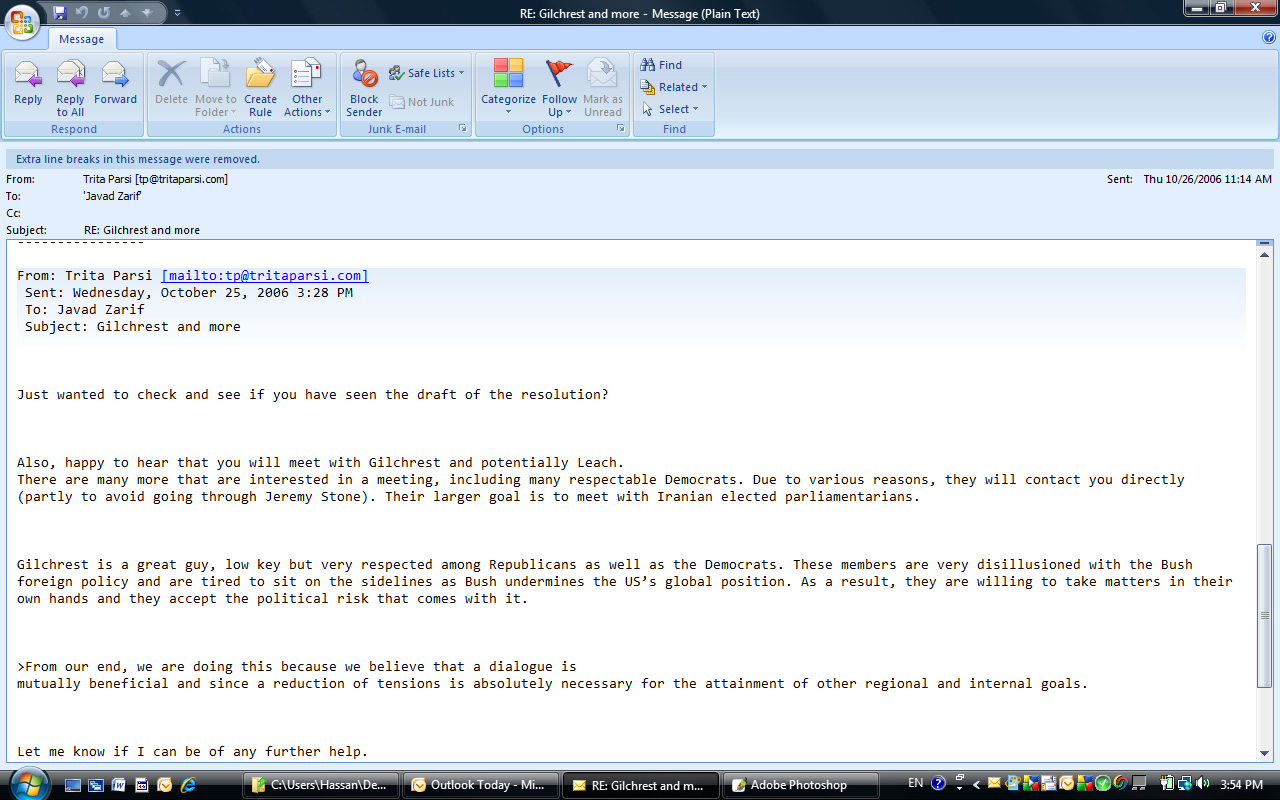 The next day, Zarif responded, "I am always open to these meetings.  Your help is always welcome.  I leave the modalities to your discretion."
.
In October 2006, another email suggests that ambassador Zarif was back from Tehran and had brought a proposal for the Congressional members. Parsi wrote: "Hope all is well and that you are back from Tehran. Would love to get a chance to see the proposal or to understand more what it entails. If it is substantial, then certainly members of Congress may find it a reasonable offer, even if the White House doesn't. tp"

.
Then, in February 2007, Parsi requested a new meeting with Zarif to discuss two members of Congress' plan to establish communication with establish communications with the members of Iran's parliament. He wrote: "Would you have time to meet next Friday? I am having a meeting with Gilchrest and Meeks, and they asked for our assistance in getting some communication going between the parliamentarians."
Samuel Gardiner, one of NIAC's expert witnesses in the defamation lawsuit, testified[7] that a group of Congresses members that opposed Bush's policy toward Iran met regularly to coordinate their efforts and planned to meet members of the Iranian parliament.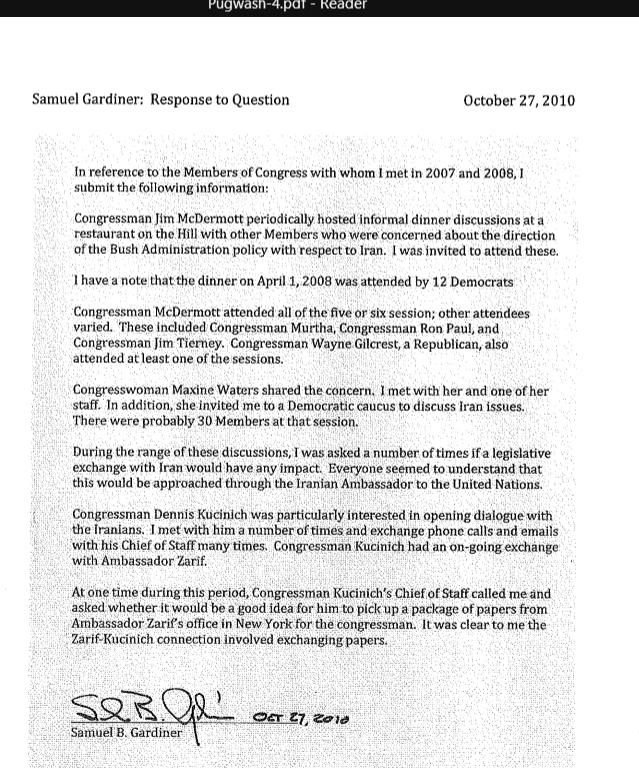 Meetings with Iranian officials in Europe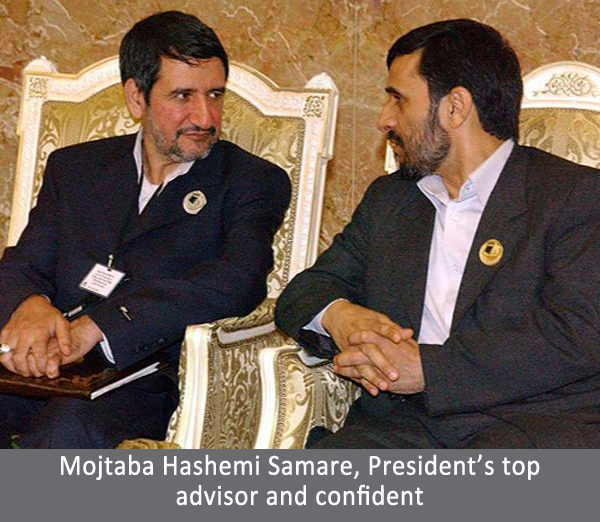 In 2008-2009 NIAC and Trita Parsi played a key role in arranging the meetings between Iranian and American officials including two meetings in Vienna and Den Dag in which Iranian President Ahmadinejad's chief advisor and confident Mojtaba Hashemi Samareh, Iranian ambassador to the IAEA, Ali Asghar Soltanieh, former US Defense Secretary William Perry who served as a member of the Obama campaign's national security working group in 2008 and Puneet Talwar the Chief Middle East Advisor to Vice President Biden on the Senate Foreign Relations Committee participated.
These meetings were initiated by Pugwash, an international organization whose chair between 2007 and 2012 was Saideh Lotfian, a Tehran-based university professor who is a member of the editorial board of The Center for Strategic Research's (CSR) quarterly journal. CSR is a government institute that is affiliated with the Iranian Expediency Council, a governmental body headed by Hashemi Rafsanjani.
These meetings, its contents, and list of participants have not been entirely revealed. Several press reports (Telegraph report, Iran Primer report, Foreign policy report) have discussed these meetings and WikiLeaks has also published a cable related to one of these meetings.
During a defamation lawsuit that NIAC filed against one of its critics, several documents related to these meetings were released. During Parsi's court deposition, the issue was discussed and he testified about these secret meetings.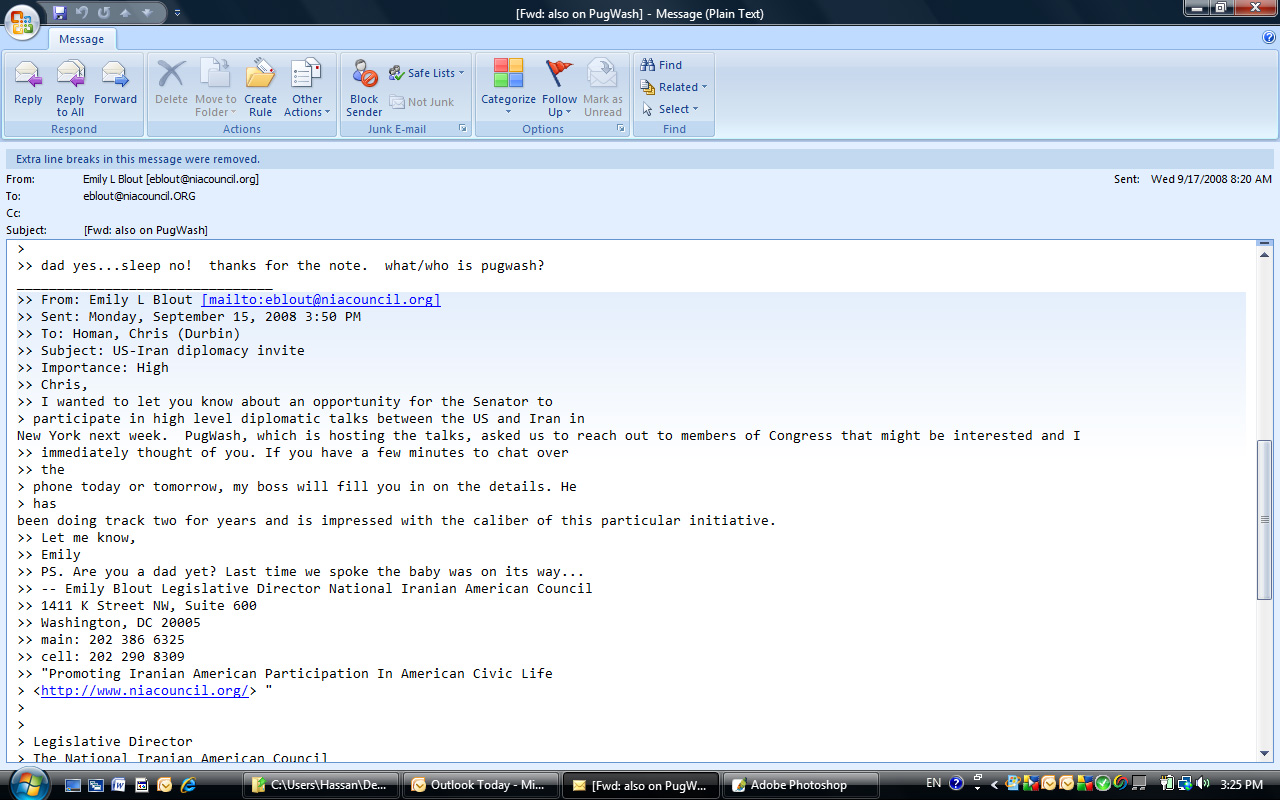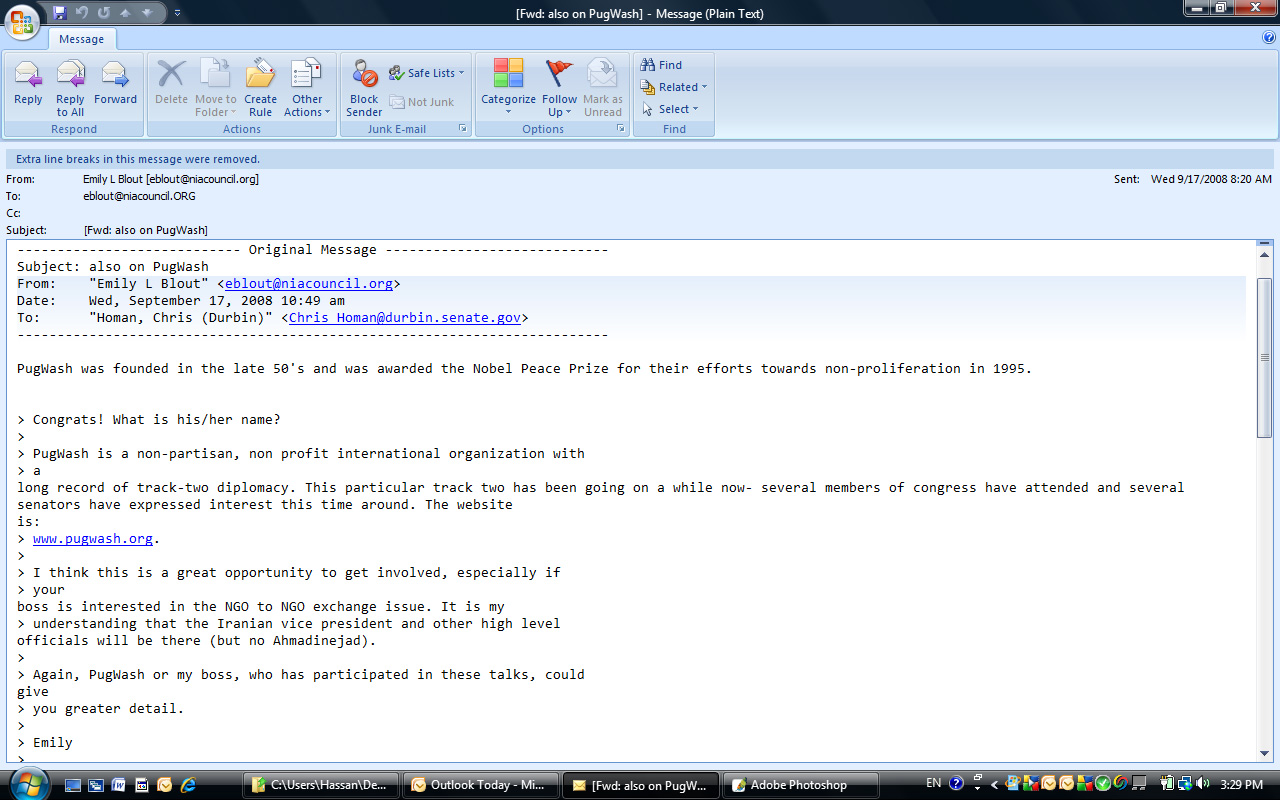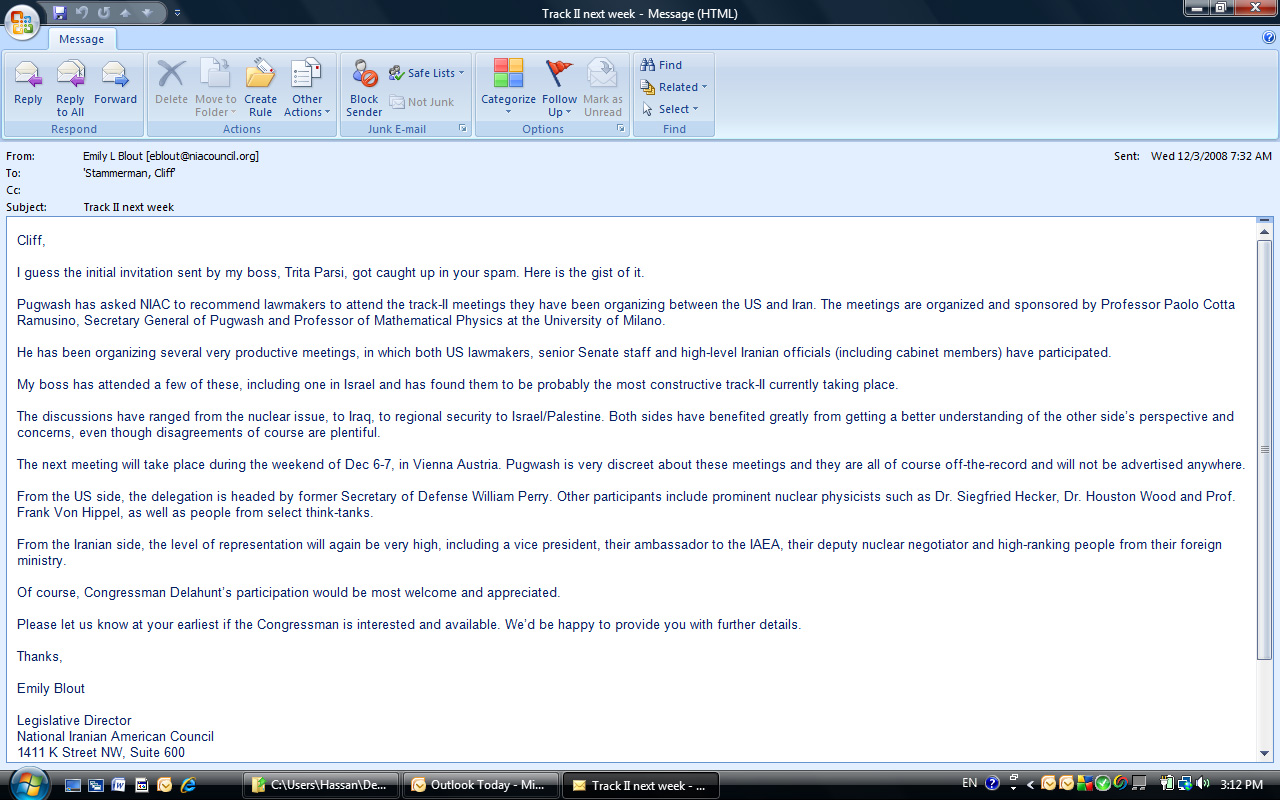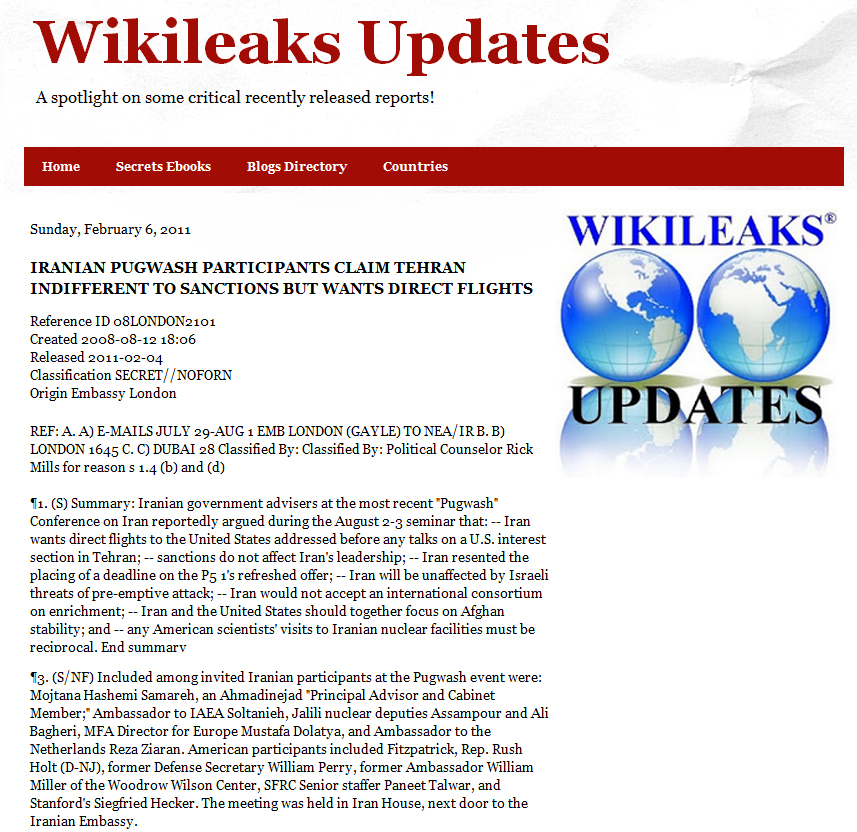 Notes:
These emails and court documents are compiled here for review.
[1] Javad Zarif's nomination speech at parliament, 13 August 2013. http://www.youtube.com/watch?v=uPY_jXRrMZM
[2] NIAC Fact Book, Iranian American Forum, http://iraniansforum.com/lobby/index.php/niac
[3] "NIAC lost defamation lawsuit and was punished for legal abuses", Iranian American Forum. August 2013 http://iraniansforum.com/lobby/index.php/niac/87-niac-lost-defamation-lawsuit-and-was-punished-for-legal-abuses
[4] See emails at Iranian American Forum, http://iraniansforum.com/index.php/factbook/384-parsi-and-zarif.html
[5] See report on "Grand Bargain" at Iranian American Forum,August 2013, http://iraniansforum.com/lobby/index.php/niac/103-iran-s-2003-grand-bargain-offer-bob-ney-and-trita-parsi-s-role
[6] See emails at Iranian American Forum, Parsi and Zarif: http://iraniansforum.com/index.php/factbook/384-parsi-and-zarif.html
[7] Sam Gardiner's testimony, October 27, 2010. http://iraniansforum.com/Document/Gardiner.jpg