Time to cash in
Sep 21st, 2015
Hassan Dai, September 9, 2015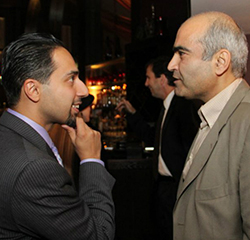 Bijan Khajehpour, NIAC's lobby partner and Trita Parsi's former boss will participate in oil and Money conference in London to share the podium with an Iranian official from oil ministry and assist him in promoting business opportunities in Iran. Khajehpour and NIAC have been collaborating to oppose sanctions and urge US administration to be more flexible in nuclear talks
——————————————————————-
The Iranian government is intensifying its efforts to convince international oil companies to invest in the county's struggling energy sector. A large delegation of Iranian officials from the oil ministry will participate in a three days conference in London in mid-December to unveil "attractive" oil and gas projects and present new legal framework for foreign investors.
Similarly, Mehdi Hosseini, the Chairman of Oil Contract Restructuring Committee at the oil ministry will participate in "the Oil and Money conference" on October 6th in London. Bijan Khajehpour, the managing partner of Atieh International, an Iranian consulting firm based in Vienna will share the podium with the Iranian official and will assist him to promote investment opportunities in Iran.
Founded in Tehran in 1993 by Khajehpour and his wife, Atieh Group is a business conglomerate with diverse activities. It helps foreign companies do business in Iran, acts as intermediary between the company and the government, maintains close ties with the regime and has multiple joint ventures with the government. Some of the screen shots from Atieh's old website are posted here.
Since 1999, Khajaehpour and Atieh's directors have played a key role in creating and assisting the National Iranian-American Council (NIAC), a pro-Iranian regime lobby organization based in Washington. NIAC's public and some of its internal documents released during the defamation lawsuit reveal continued coordination and collaboration between NIAC, its president Trita Parsi and the directors of Atieh directors in Tehran.
In 2002-2003, while president of NIAC, Parsi profited from his presence inside the Congress to prepare reports about the latest developments regarding Iran and sent these reports to Atieh in Tehran. Atieh published these reports for their clients, mostly foreign businessman and diplomats stationed in Tehran. Atieh paid Parsi for his work. (. (See Documents)
During the past three years, Khajehpour and NIAC worked closely to oppose US sanctions against Iran and urge US administration to be more flexible in nuclear talks. Khajehpour has participated in NIAC's Congressional and policy meetings and spoke at NIAC conferences. In 2013, Khajahpour, Parsi and Reza Marashi his assistant at NIAC, co-authored an anti-sanction report that was published and presented during a conference in Washington.
Recently in June 2015, during the nuclear negotiations in Vienna, NIAC and Atieh organized a joint Conference titled: "Iran's economy after nuclear deal" (See picture).